Monday, September 28, 2020
Latest Updates of Effing-Loot.bs.com
Hello all looters! Currently we are back @ effing.loot.bs.com
to sell soft toys of all kinds! Everything here are brand new and guaranteed to be still in packaging.
I provide wholesale services to all for the soft toys.
Don't see what you want here? Feel free to drop me a mail and I will order it for you! Be sure to attach a photo of it! :)


At the meantime,other sprees will only be organised on request.
Thank You!


Direct all orders/enquiries to effing.loot@gmail.com (:
*Fret not about scamming as we've got good reviews from my customers!
Scroll down for promotions/latest updates!



♥
Hey all looters!
Any updates of new sprees/pre-orders will be updated here.

For updates on your spree item,please do check back under "Orders" & "Order Status"

There will be promotion on every week. Do scroll down for more information and look out for the promotion!

Please also take note that promotion item is non-negotiable and no refund/exchange is allowed.

You may also request for any pre-orders/sprees/colours if you do not see it here.


Lastly,very important for blogshop owners,please mail me if you want to be linked!
♥
Hope you looters enjoy picking your loots @ effing-loot.bs.com!



For all bloggers
*Not applicable to blogshops
♥
Link me up with my blog shop banner now and be entitled to 5% discount for promotional deals,10% for non-promotional deals now!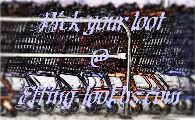 Remember to state your blog url at the end of the order form in your email to enjoy the looter's great deals
♥
!
Promotion of the month :
Spend $60 in a single receipt and you will be entitled to

free

registered postage ;

Get 5% if you are the second time onwards purchase from effing-loot.bs.com ;

Labels: Promotions, things to note, Updates